Ramadan is a time to connect with family and friends. Here are some tips to optimize that time, inshaAllah (Godwilling).
Note: You can adapt these tips to work with your spouse, parents, children, siblings, friends, etc.
---
Tip #1: Use shared lingo.
My husband Kyle loves sports and all things competitive. He regularly says "let's get it" even if it's not a sports conversation. I like to be silly with him and say it myself. It is highly unlikely for me to use this type of 'lingo' around just anyone. Therefore, it makes a special connection between us. To make this example Ramadan-specific, last year, I used this phrase many times as it relates to Ramadan. While we read Qur'an together, I would say "let's get it" many times right when we were about to start another ayah. :)
Tip #1 Action Item:
What are some unique phrases your family member or friend says?
How can you mirror their language and make it Ramadan specific?
---
Tip #2: Help & Be Helped

Ramadan is a time to really connect with Allah SWT (God). Help each other get dunya (worldly) related things done quickly and efficiently. Two people can bang out tasks faster than one.
Tip #2 Action Item:
What is something that your family member or friend normally takes responsibility for that you can help with? What is something you normally take responsibility for that you can ask for help with? What Ramadan focused activities can you do with the freed up time?

---
Tip #3: Get Involved
Volunteer at a soup kitchen together, give away old clothing together, teach a class together. Do something for your community.
Tip #3 Action Item:


What can you do together this month to gain the pleasure of Allah SWT?

Those are the tips I have for you.

Leave a comment below and let me know any tips you have to optimizing your Ramadan with your family & friends, inshaAllah (Godwilling).
Thank you for reading! :)
---
If you want further support this Ramadan, keep reading....



I created a state-of-the-art program to ensure you (and I) rock this Ramadan with loads of energy, optimizing the maximum benefit of this Holy month. This is the 3rd time I'll be running my Ramadan Mind Body Soul Online Retreat, and this time it's open to not only sisters, but their families, organizations, and students.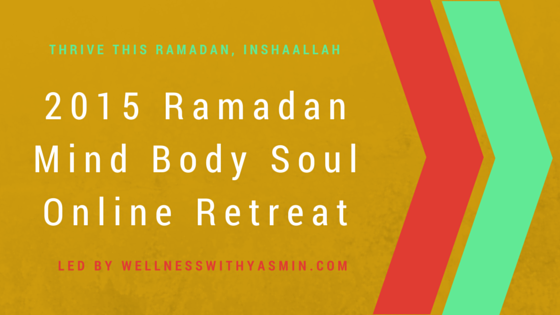 Here are what some participants said last year:
"I feel very inspired uplifted in spirit and don't feel hungry or thirsty until just before breaking fast. Right around Maghreb prayer I fell like I could faint. But following your diet and its really fabulous i have energy and feel really good."
-sister from North Carolina
"P.s I really liked your Ramadan videos, I'm working my way through the initial ones and also the recipe book is great (lack of a more exciting word fails me) and I'm working on the journal."
-sister from the UK
"I quite like the idea of this online Ramadan retreat as most of u with children will know... escaping anywhere is near impossible! I pray we all have an uplifting Ramadan guided by Yasmin Essa whose Ramadan planning videos and journal have been my best start to Ramadan ever!"
-sister from the UK