Hey there. :) Thank you for checking out my books. I've written these with lots of TLC. My books embody beauty, results, and inspiration. They are designed for the highly intuitive woman who is ambitious and sometimes has trouble relaxing. Enjoy, inshaAllah (Godwilling).
---
Glow From The Inside Out Cookbook

[print + e-book options available]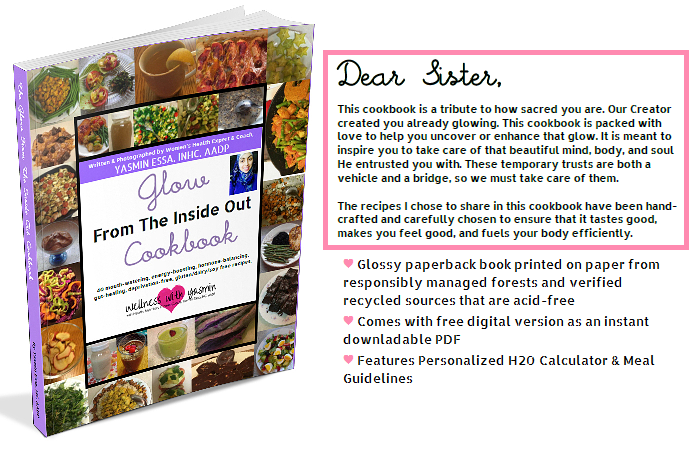 The cookbook includes 40 recipes that are all gluten-free, dairy-free, and soy-free. It focuses on optimal digestion, hormonal balance, and just being delicious. I do not advocate that everyone needs to cut out gluten/dairy of their lives. The cookbook is designed in a way to allow the reader to take what works for them.

It is a 8.5x11 paperback, perfect binded book, full glossy color. All print versions come with a free digital copy.
Click here to buy print version for $23.95 + 5.95 shipping (flat worldwide rate)
Click here to buy digital version for $14.95
Table of Contents:
4 Meal Guidelines

5 Personalized H2O Calculator

6 Oven-Baked Juicy Marinated Chicken Legs

7 Lemon Spiced Baked Asparagus

8 Ginger Lemon Broiled Cherry Tomato & Eggplant Chicken

9 Spicy Baked Sweet Potatoes

10 Turmeric-Basil Herbed Chicken on Bed of Brown Rice Garnished with Toasted Almonds

11 Hormone-Balancing, Gut-Healing "Makes Your Kitchen Smell Amazing" Mouth-Watering Bone Broth

12 Refreshing Cucumber, Tomato, Orange Parsley Salad

13 Homemade Creamy Almond Coconut Milk

14 Sautéed Kale with Yummy Peanut Marinade

15 Mix and Match Protein Salad Formula

17 Delicious Creamed Mayo-Free Ground Chicken with Avocado on Cabbage "Wraps"

18 Veggie Muffin "Mini-Quiches"

19 Turkey & Avocado Roll-Up Collard Wrap

20 Delicious Chicken or Beef Burgers on Cabbage "Bun"

21 Mix & Match Dinner Formula

22 Delicious Red Cabbage & Bell Pepper Fiesta Lemon Chicken Stir-Fry

23 Mango-Tomato-Cilantro Herbed Rice

24 Crunchy Carrot & Beet Chips

25 Zucchini Pasta

26 Cauliflower Rice

27 Kale Chips

28 Grilled Ginger Mango & Green Beans

29 Raw Carrot Salad

30 Hormone-Balancing Carrot Artichoke

31 Veggie Stir-Fry w/ Protein

32 Omelet, Veggie and Fruit Platter

33 Veggie Omelet

34 Delicious Protein Pancakes topped with Fruit

35 Mouth Watering Crispy Sweet Potatoes

36 Sweet Potato Fries

37 Healthy Raw Chocolate & Peanut Butter Cups

38 Guilt-free Chocolate Ice Cream

39 Fudgy Black Bean Brownies*

40 Delicious & Warm Cinnamon Sugar Apple Cubes

41 Raw Chocolate Balls

42 Honeycrisp Apple Chips

43 Crunchy Snack Ideas

43 Sweet Snack Ideas

43 Salty Snack Ideas

43 Creamy Snack Ideas

44 Strawberry Banana Green Smoothie

44 Energizing Green Smoothie

44 Tropical Green Smoothie

45 Berry Chocolate Protein Smoothie